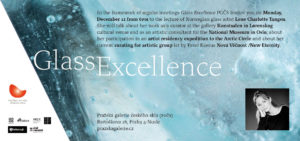 Tangen studied at the Royal Danish Academy of Fine Arts in Copenhagen, where she discovered a love of mould melted glass. She had a studio on Bornholm in Denmark she worked with glass.  She took part in an international glass exhibition Stanislav Libensky Award 2011 and in 2015 was a member of the jury. From an old fortress converted into artist residences, near to Oslo, Norway, she has created a glass studio, dedicated to the cold processing techniques.
Lene Tangen recently participated in artist residency expedition to the Arctic Circle, where she stayed on a Barkentine Tall Ship. Through collaborations with other artists and scientists through the research of the polar environment, she could fully immerse herself in an atmosphere that inspires most of her works.
Lene participated in numerous international solo and group exhibitions and is currently preparing a new solo exhibition. Her works are on display in private collections, on cruise ships, museums and interiors.
Lene works as a curator at Lørenskog cultural venue outside Oslo, as well as an artistic consultant for the National Museum in Oslo. Currently curating for an exhibition presenting Nová věčnost / New Eternity excisting of Pavel Karous, Adam Stanko and Helena Sequens. There is also a workshop with the Nova Vecnost in cooperation with refugees.  The opening of the exhibition named ¨Fascism and Figuration" will be held 9 December 2016.
Photos from the lecture: