News: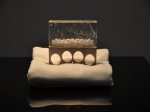 Exceptionally inspiring collection of art works created by the youngest generation of glassmaking artists offers a remarkable experience for the experts as well as the general public.
The first place in Stanislav Libenský Award 2013 won Ieva Voroneckyte (Lithuania) for the work entitled Bite That. The expert jury, chaired by the major New York gallerist Douglas Heller, considered her work to be a highly professional and quality craftsmanship. This object reflects the contrast of precious jewel and aggressiveness with the deterrent effect of a weapon. The overall impression of the exhibit is enhanced by displaying the objects on bandages.
The second place in Stanislav Libenský Award 2013 won Terese William Waenerlund (Sweden) for the work entitled Florence Table, which demonstrates stopping some action in time, with a touch of melancholy. The jury appreciated the innovative combination of textile and glass forms.
The third place in Stanislav Libenský Award 2013 won Veronika Reková (Czech Republic) for the work entitled Pure Blood. This object was awarded for its playfulness that goes against the traditional principles of glassmaking; it is provocative and goes beyond the existing boundaries of the field. This is exactly what the fresh graduates should strive for.

Chairman of the jury Douglas Heller said on the selection: "Members of the jury tried to keep the memory of Stanislav Libenský reflecting in his openness in approach to new ideas and trends in the young generation. " The jury was very pleased with the quality, increasing professionalism, diversity of expressions, used techniques and interconnection of artistic disciplines. All this is reflected in the selection of winners in Stanislav Libenský Award 2013.
The whole press release see below in Pdf.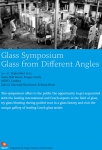 20.–21. September 2013
Game Ball Room, Prague Castle
AJETO, Lindava
Galerie Libenský-Brychtová, Železný Brod

This symposium offers to the public the opportunity to get acquainted with the leading international and Czech experts in the field of glass, try glass blowing during guided tour in a glass factory and visit the unique gallery of leading Czech glass artists
Price for the first day, lectures Sept. 20 – 15€
Price for the second (including transport); excursion Sept. 21 – 25€
Price for both days – 35€
Kids up to 10 years – free of charge
Please, confirm by September 18, 2013
on email e.dryjova@praguegallery.com
Price for glass artists from around the world – the fifth edition of Stanislav Libenský Award
Stanislav Libenský Award competition is open to young artists, to any graduates of bachelor or master programs around the world who have used glass in their final thesis projects.
Prague Gallery of Czech Glass, which has during five years of its existence gained a reputation in the world of contemporary art glass and glass design, concluded in June call for entry. In a total 35 art universities have applied, of which 10 for the first time.
Out of 71 applications, the most contestants for the past five years, the jury selected in the preliminary assessment 52 exhibitors. Artists come from all over the world: Australia, Bulgaria, Costa Rica, Czech Republic, Estonia, Finland, France, Germany, Great Britain, Hungary, Iran, Japan, Lithuania, Poland, Slovakia, Slovenia, South Korea, Sweden, Turkey and the United States.
The international jury consists of several experts in contemporary glass. The jurors include Sven Hauschke, the director of the European Museum of Modern Glass in Coburg, Germany and the curator of the art collections at Veste Coburg, Douglas Heller, the owner of Heller Gallery in New York, Milan Hlaveš, Ph.D., an art historian, curator, and the head of the glass, ceramics, and porcelain collections in the Museum of Decorative Arts in Prague, Martin Janecký a Czech glass artist and educator active mainly in the U.S., Sylva Petrová, an emeritus professor of the University of Sunderland in the UK, and Angela van der Burght, a Dutch writer, independent curator, and consultant who specializes in glass.
"I greatly appreciate the work of the jurors, for whom it was not easy at all in the preliminary assessment," says after the first round director of Prague Gallery of Czech Glass Kateřina Čapková. "Individual objects and entire installations, which work with light, new media or even using musical instruments, await us."
The first place winner will receive opportunities that will further their glass careers - admission into a course at the Pilchuck Glass School in Seattle in the US for a three-week residency program during the summer of 2014. The second place winner will receive a one-week stay at glass company AJETO. Moser, another Czech glass company, will also award a special prize. Additionally, first, second, and third place winners will have their pieces sold at an art and antiques auction on 23.11.2013 at the Marriott Hotel Prague. The auction is organized by auction house Dorotheum.
Part of the autumn exhibition will be also a Glass symposium entitled "Glass from Different Angles", which will present to the public lectures given by the jury members and guests. The symposium will be between 20. – 21.9. 2013, and will create place for the confrontation of different points of view in the glass scene in the Czech Republic and abroad. For all participants of the exhibition and for the public is also scheduled a special journey mapping the Czech glass industry in North Bohemia.
The initiator of Stanislav Libenský Award is Prague Gallery of Czech Glass.
The exhibition is co-organized by the Prague Castle Administration and Museum of Decorative Arts in Prague, under the auspices of the painter Jaroslava Brychtová and the U.S. Embassy in Prague. The curator of the exhibition is Milan Hlaveš and the architect and exhibition is Jan Kalous.
PRACTICAL INFORMATION
Venue
: Royal Summer Palace at Prague Castle
Dates
: 20.9. -.1.12.2013
Exhibition opening hours
: every day from 10 to 18 hours
Admission
: Elementary – 100 CZK, reduced (children 7-15 years, seniors, students) - 60 CZK, group tickets for more than 20 people – 50 CZK, family ticket (2 adults +2 children) - 250 CZK, teacher, journalist – free.
Catalogue price is 300 CZK.
From editorial: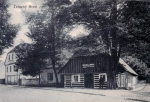 Former Křivůnek's pub U Koníčka stood in the place of today's bus station in Železný Brod. In 1922, the town rented a room for the glass pressing workshop there. A contemporary postcard.
/2/ In September 1920, first thirty-two learners were accepted to initially two-year State professional school for glassmaking and business in Železný Brod. They had met in the City Hall, but after welcome speeches they were told to come next month and went back home. The town still had no classroom or workshop prepared for them. Theoretical subjects, drawing and modeling began to be taught in two rooms on the ground floor of a building and one room in the basement of today's post office since October. In an extension building in the yard there was one table with a lamp for pressing beads and buttons into metal molds that students brought from their homes. Glass as well. The school was supposed to have five departments, but those, who had signed up for cutting or engraving, were unlucky and just had to model for two years. The future glass painters were not a lot better.
The High School of Applied Arts for Glassmaking in Železný Brod celebrated its ninetieth anniversary in 2010 by organizing an exhibition in the Museum of Decorative Arts in Prague, issuing an extensive publication and other events. The anniversary was an opportunity to reflect on the history of the glassmaking school and Czech glassmaking education, but also on contemporary glass art, in which educators, students and followers of traditions in Železný Brod have been involved. While celebrating we were more than ever aware of how little we know about the beginnings of the school and glassmaking in Železný Brod region, and therefore, there are still nurtured some untruths, so it would not hurt to commemorate the school's history more often and explain little known passages.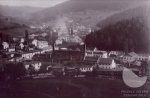 The third part – The family line from Polubný and the birth of the empire (2nd half of 19th century)
The Riedels are undoubtedly one of the most significant glass-making families of Czech origin. From humble beginnings they managed to build an empire over three generations that dominated the production of glass and jewellery in the Jizera Mountains region, which was one of the most important glass-making enclaves of the world. The story of the Riedels continued even after 1945, when all their property had been confiscated and nationalized. After difficult beginnings, they had found a new home in Kufstein, Austria, and again ranked among famous glass-making businessmen, although they began to focus mainly on hand made beverage glass instead of production of jewellery and decorative or technical glass.
Exhibits:
Galerie am Museum in Frauenau -
Exhibitions
(30.7. 15:11)
heute-now-dnes-konnichi-vandaag-täna-actuel
am Sonntag, den 14.07.2013 um 16.00 Uhr / Private View Sunday 14th July 2013, 4 p.m. laden wir Sie und Ihre Freunde herzlich ein.
Ausstellungsdauer/Exhibition Dates: 14.07.13 - 15.09.13 Ausstellungsort/Venue: Galerie am Museum, Frauenau
Claudia Bade-Greve (D) ● Pavlína Čambalová (CZ) ● Katharine Coleman (UK) ● Róisín de Buitléar (IE) Jakobine von Dömming (NL) ● Ainsley Francis (UK) ● Alexandra Geyermann (D) ● Heather Gillespie (UK) ● Jiří Harcuba (CZ) ● Franz Höller (D) ● Karin Hubert (D) ● Norbert Kalthoff (D) Alison Kinnaird (UK) ● Ursula Merker (D) ● Kristina Klepsch (D) ● Tanja Nicklaus-Kröker (D) ● Claudia Phipps (UK) ● Laura Reid (UK), Andreas Rieder (D) Mare Saare (EE) ● Christian Schmidt (D) ● Heikko Schulze Höing (D) ● Lada Semecká (CZ) ● Nancy Sutcliffe (UK) ● Michaela Swade (D) ● Kyoko Takeuchi (JP/D) Wilhelm Vernim (D) ● Jaroslava Votrubova (CZ) ● Anne Wenzel (D) ● Barbara Zehner (D)
Finissage am Sonntag, den 15.09.2013 um 15 Uhr, als Abschluss eines Meetings der an der Ausstellung beteiligten Künstler.
Finnissage on Sunday, 15 September at 3pm, as a conclusion after a meeting of the participating artists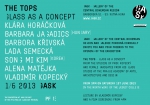 Vladimír Kopecký
Alena Matějková
Lada Semecká
Barbora Křivská
Klára Horáčková
Song-Mi Kim
Barbara Jagadics
Opening on 1. 6. 2013 at 15.00
The exhibition will be open until 1. 9. 2013.
The exhibition at GASK is part of the PF13 Prague glass art festival
Galerie am Museum in Frauenau -
Exhibitions
(21.5. 13:13)
"Artist in Residence" der Glashütte Eisch am Samstag, den 18.05.2013 um 19.30 Uhr / Private View Saturday 18th May 2013, 7.30 p.m. laden wir Sie und Ihre Freunde herzlich ein.
Ausstellungsdauer / Exhibition Dates: 19.05.13 - 28.09.13
Video from S.L.A. Gala 2012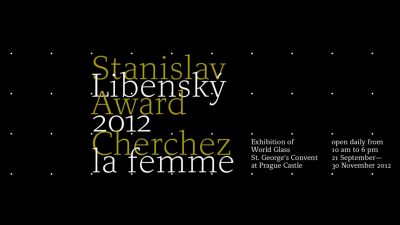 See:
Under the article
.
Video from S.L.A. Gala 2011
See:
In article
.
Video from S.L.A. Gala 2010
See:
In article
,
On YouTube
.
Download:
High quality
,
Low quality
.